1. Lexi's Clean Kitchen
Alexis Kornblum Davidson decided in 2012 to stop eating unhealthy foods. She was feeling rundown, both physically and mentally. She suffered from some stomach trouble. Lexi, as she likes to be called, her fiance' Mike, and golden retriever Jax teamed up to help Lexi with healthy recipes. After realizing the improved change in the way she felt, when she gave up sugars and fats from her diet Lexi wanted to share her blog. She began Lexi's Kitchen on the side when she was not teaching. In 2015, she resigned her teaching job to devote full time to her cooking and begin her blog.
In her blog, Lexi shares recipes that are free of refined sugar, gluten,salt, and dairy. All her recipes are paleo-friendly She has learned to make sweet snacks using substitutes like honey and maple syrup to replace sugar. Lexi uses other ingredients in her soups and main dishes to replace salt. Ms. Davidson uses spices like ginger, garlic, and turmeric. She uses mozzarella cheese and ricotta for her Eggplant Lasagna Rollantini. Lexi has healthy recipes for breakfast, lunch, and dinner. She even has gluten-free treats for the dog. Lexi published a cookbook that can be bought on her site!

2. Cookie + kate
Cookie and Kate is an superb food blog put together by an inspiring young female named Kate. She is totally obsessed with food and has a passion for cooking sustainable food. While residing with her "sidekick," Cookie in Kansas City. she loves spreading her talent and knowledge to others to step their talents up in the kitchen as well!
The now full-time blogger is someone who loves to have fun with friends, and cook ridiculously delicious and healthy food.  Check out the unreal Text-Mex Breakfast Bowl that will make your mouth melt that is loaded with protien rich eggs, essential vitamins, rich fiber and powerful phytonutrients. To see more follow her on her awesome journey and step your game up in the kitchen by going here!

3. The Full Helping
The Full Helping is founded by Gina, who has created a successful vega blog. Although she suffered from eating disorders earlier in her life, she now takes pride in overcoming it and is excited that she is now in control of her health. She has a strong love of vegan food and has a passion helping other through her website that she has developed and enhanced it over the years.
Her blog is mainly made up of her sharing her stories and her recipes. She lives for providing a significant amount of knowledge to her followers to encourage healthy vegan dishes that are as tasty as they look.
Not only talented in the kitchen, but she also serves a counselor. She is available to book a private phone call session and discuss options about vegan diets and her healthy food plans available for purchase. To find out more go here !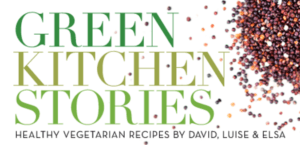 4. The Green Kitchen Stories
At Green Kitchen Stories, David and Laura create healthy and imaginative vegan meals that contain healthy and organic ingredients with an eye towards health and well-being. Their blog often focused on meals they put together for their daughter, Elsa.
At first, David didn't start in the food industry, but was a magazine director in Sweden. He is the site photographer and often crafts many of the blog entries. Luise was in social sciences but decided she was better off switching gears and studying for a degree to become a nutritional therapist and handles crafting most of the recipes and has a real passion for cooking.
Their passion for healthy eating is emphasized in their website name and came from the increased energy that they have from eating natural and organic foods, concentrating on natural foods that are simply prepared. They emphasize a variety of different meals and options that they put together to provide a variety of options for their site viewers. The meals that they create are more than just recipes, and the blog tells a story behind each meal which helps to enteritis readers and put a context behind what they are crafting.
The couple has also developed their own cookbooks starting with "The Green Kitchen" and continuing with "Vegetarian Everyday".
Learn more by checking out the blog!

5. Love & Lemons
Love and Lemons is run by Jeanine and Jack, a food-obsessed couple living in Austin, Texas, with their two Shiba Inus – or as they say, being owned by their two Shiba Inus.
Jeanine, originally from Chicago, loves her food, often topped off with lemon, which is how she decided on the name of her blog. She and husband Jack, who is from Florida, are not entirely vegetarian, though they tend toward vegetarian recipes with soft spots for avocado toast and kale salads.
When Jeanine isn't busy posting the perfect food shot on her blog or Instagram she can often be found trying to get the perfect shot around Austin – possibly of the tacos that Jeanine writes are her favorite thing about Austin. She and Jack also love traveling out of the country, with Italy and Japan happen to be some there favorite places to go.
Love and Lemons, founded in 2011, has been featured on plenty of sites and magazines, such as Refinery29 and Oprah Magazine, and was named the 2014 Readers Choice Best Cooking Blog by Saveur Magazine.
Jeanine and Jack's cookbook, The Love and Lemons Cookbook, has been published and can be found here.

6. Eating Bird Food
Eating Bird Food is an inspirational blog for anyone wanting to eat and live a healthy life without spending countless hours looking to improve health. The blog started by Brittany, a health coach and trainer, who devoted a considerable portion of her time in raising awareness of healthy habits. Her love affair with healthy dieting and exercise started in college. She learned that healthy lifestyle does not require an intense change in daily routine if we are aware what diet and exercise techniques are not time-intensive. Therefore, Eating Bird Food is a realization of her dream to share her passion for dietary and exercise habits with others.
A critical part of her user-friendly blog also allows Brittany to communicate with her fans by offering everyone to chip in with additional tips and opinions of their own. The growing popularity of the blog allows more and more visitors to connect with each other on a common ground of striving for a healthy lifestyle without a huge time commitment.
Brittany also shares her short but extremely effective workouts. These include 10 minute Yoga exercises, 20 minute jump rope workout and lots of other great techniques. What makes Eating Bird Food stand apart are accompanying pictures and photographs that makes reading the blog fun for everyone.

7. SkinnyTaste
SkinnyTaste is a food blog by self-described "author, photographer and recipe developer of Skinnytaste.com" Gina Homolka. The blog began in 2008. Homolka wanted to merge what she had a passion for, photography and food. She considers her blog to be a "labor of love" that gets right around 3 million visitors every month. Gina tries focus on featuring family-friendly, healthy, and low-fat recipes.
She also tries to provide answers for cooking questions, hold giveaways, post health tips and reviews in a feature she calls "Skinny Bits". One of her recent articles features rice and lentil bowls with bacon and eggs. Currently partnered with a company named Canadian Lentils, she reports that lentils are versatile and easy to cook as well. They are not just for soups either. According to an old family recipe she got from her aunt, they can also be served atop a bed of rice with bacon and an egg. For vegetarians, the dish can be served with an avocado in place of the bacon. To check out more of her awesome dishes go here!

8. Mel's Kitchen
Mel's Kitchen is a website dedicated to offering home-tested recipes for kids. These recipes are a labor of love by a woman who has dedicated herself to try both traditional and modern recipes children love. Unlike most recipes on the Internet, the website offers true and tested recipes straight from Mel's kitchen, which are always tested by her five young kids.
Perhaps, the most distinguishing feature of the recipes is easy to understand instructions and short cooking times. While it is true, that these are not 5-minute recipes, almost every recipe ensures that parents are able to make their favorite dish without resorting to buy expansive and hard-to-find ingredients. Actually, most of the contents included in recipes are readily available everywhere. Therefore, forget finding exotic ingredients and long-waiting times.
The website is a perfect place for parents to find a quick-fix for the hungry appetite of their kids. In fact, hundreds of recipes are neatly presented in different sections offers a chance to quickly pick a favorite. In addition, there is even a section where Mel casually talks about the little things that matters when cooking for kids. This blog is dedicated to showcase some of the recipes that will turn into parents favorites to cook for their kids!

9. Oh My Veggies
At the Oh My Veggies blog, you will find one of the best assortments of recipes and meal ideas on the web, all themed around vegetarianism and veganism – and simplicity! Oh My Veggies is dedicated to finding simple, wholesome vegetarian and vegan recipes without all the fuss.  THe blog aims to be as healthy and preservative-free as possible, but as they say, brownies are a necessity of life.
Oh My Veggies likes to focus on fresh and seasonal and without implementing meat into their recipes. Oh My Veggies is simple and delicious recipes, meal plans, and tips for cooking for both vegetarians and vegans. THis blog focuses on creating recipes that anyone can make!
Providing everything from the recipes to meal plans, Oh My Veggies is a top destination for hassle-free vegetarian and vegan cooks to up their game in the kitchen.

10. The Psychology of Eating
The Psychology of Eating is a superb Institute that teaches about the body, mind, and soul connection to eating. Marc David, M.A., founder of the Institute, has authored a number of bestsellers focused on the topic of food and psychology. Marc has dedicated over thirty years to studying and compiling data on this area of psychology. He has held a number of high-ranking positions in organizations that are concerned with human nutrition. His groundbreaking research has featured in some of the leading news outlets such as NBC as CNN. Mr. Marc got his M.A. at Sonoma State University.
Mr. Marc has given lectures all around the world. He started the Institute as a way to further share information on eating and its connection to the mind. With more people, facing eating challenges than ever before in history, his lessons are very significant. All the work that students get at the Institute is a collection of over three decades of experience. Each lesson is designed to be simple and as clear as possible. Those who sign up get to learn how nutrition and psychology can be combined for a healthier population. If you want into this body of knowledge, use this website and help others change their lifestyles. You will not be disappointed!